Modern shared hosting for Linux and Windows
Atomia makes it incredibly easy for you to sell shared hosting. Even now in 2017, this hosting model is still the bread and butter for a large part of the web hosting industry and great value for end users if done right — and we have made sure to do it right. Atomia gives you modern shared hosting at its best.
Atomia is battle-tested and already in use at many large, multi-brand hosting providers. Using Atomia's hosting software you can offer:
A hosting control panel that your end users will love
Simple website management
Both Windows- and Linux-based shared hosting
Apache and IIS web servers
Powerful scripting support with PHP, Python, and .NET
MySQL, PostgreSQL and MS SQL databases
Email hosting
SSL certificates
That's just the tip of the iceberg. We support a large number of features, technologies and services, and more can be added since Atomia is also developer friendly.
You're running a business. We make that easy
You're selling hosting services and that shouldn't be a hassle to manage. After all, you have a business to run. We've made sure you have everything a hosting provider could need out of the box.
Running a web hosting business based on Atomia brings you all the handy goodies you can (or at least should!) demand from a truly modern hosting platform.
Support for resellers
Support for multiple brands
Support for multiple payment methods
Support for multiple currencies
Our own integrated billing system
Self-service billing for your end users
Billing automation
Easy to create offers and discounts
Since the Atomia platform is modular and flexible, you can have almost any kind of products on offer. You can offer shared hosting and cloud services, all in one place.
We even provide you with a sign-up order page you can customize to your heart's content and integrate with your website.
One interface for shared hosting, VPS, domains, and more
With Atomia, you can offer multiple services within the same interface. No more messing around with multiple different control panels. With Atomia, you just present your users with a single, unified control panel that they can live within (we simply call it the "user panel").
Everything your customers need is right there, and you can turn available features on and off as you see fit. Benefits of Atomia's unified interface include:
A central, consistent user experience for your customers
Consistent branding, look and feel
Handy features like one-click upgrading a shared hosting website to a VPS
Unlike most control panels, Atomia's user panel works beautifully on all kinds of screen sizes, from smartphones and tablets to laptops and large-screen desktop computers.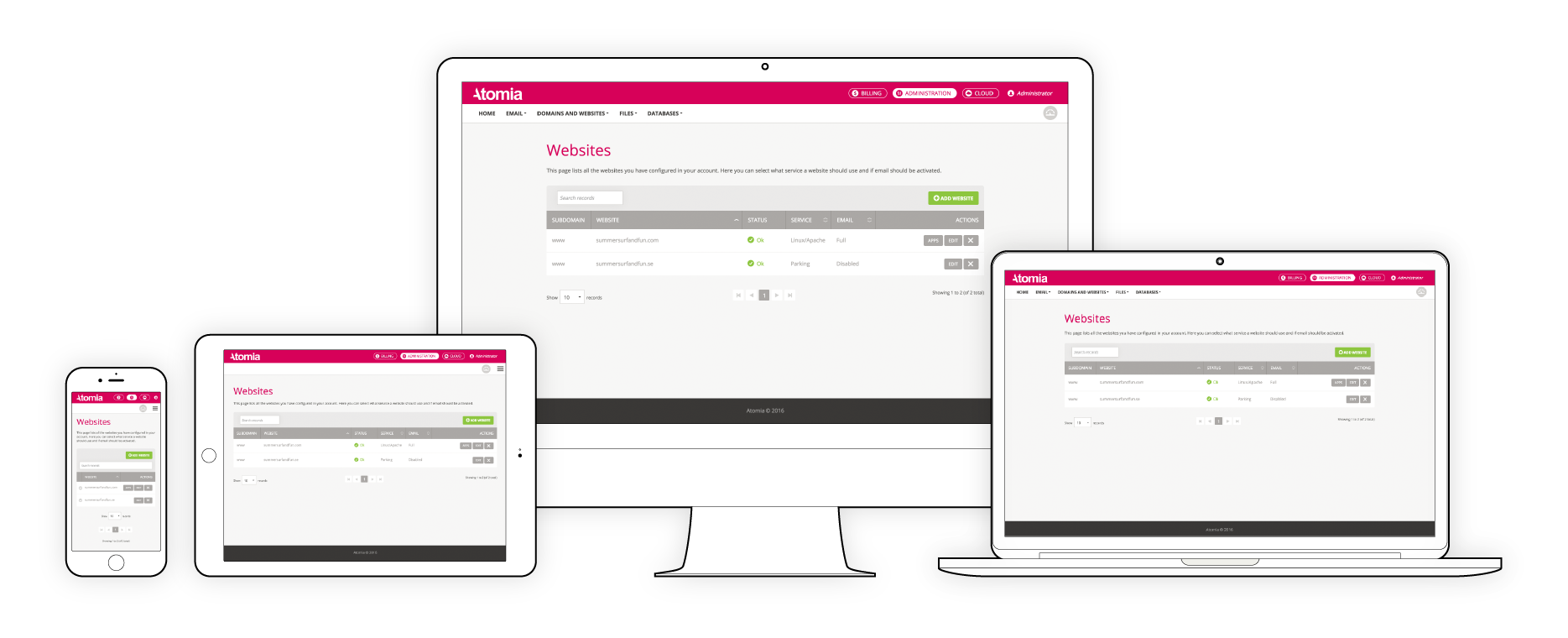 It will of course be branded and themed with your own style and logo, not Atomia's. You can read more about how Atomia's unified control panel works — and see screenshots — in our control panel section.
Embrace automation and centralized management
Don't mess around with duct tape and lots of custom bridging code to keep your platform running. That's the old way of doing things, and it scales horribly.
Atomia is a centralized platform. You manage settings, servers, everything, from a central control panel, and changes are provisioned automatically to your infrastructure and any external services you are using. Simplified server management at your fingertips.
On top of this, Atomia was built from the start to provide massive amounts of automation. Thanks to this, a small team can support a huge number of customers and servers. Billing, provisioning, everything is highly automated.
In fact, the entire customer journey is automated. Your customers sign up and order services, which are then automatically provisioned to your infrastructure according to your settings, and automatically billed.
And thanks to all this automation, there's much less room for human error.
We help you follow best practices
Since the people behind Atomia have nearly two decades of hosting industry experience, we help you organize your hosting infrastructure according to modern best practices. We recommend a clustered setup with full redundancy for high availability, and of course tweaks according to your specific needs and customer base. Like this:
If you want to wring a bit extra out of your servers we also support CloudLinux OS out of the box, which was created to maximize resource usage in shared hosting environments.
And since Atomia is living software — we constantly improve it — you will always be able to stay on the cutting edge of the hosting industry.
We help you get started
When you become an Atomia customer, we help you get started, install and customize your platform, and launch it to the world. We can also help you safely migrate your existing user base to your new, Atomia-powered hosting platform.