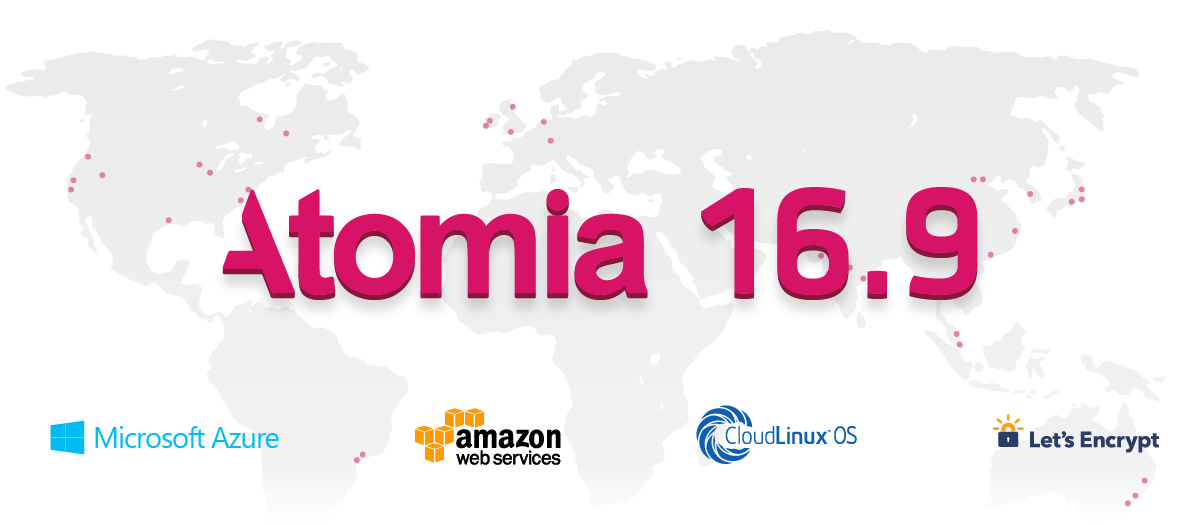 New release: Atomia 16.9 hosting software adds support for CloudLinux, hybrid cloud and Let's Encrypt
We're pleased to announce a new major release of the Atomia Cloud Hosting Platform, our all-in-one hosting and billing software. Atomia 16.9 is available starting today.
We have a lot to tell you about, so let's get right to it!
Highlights of the 16.9 release
CloudLinux OS integration. It is now possible to use CloudLinux as the server operating system for your Atomia web servers and MySQL database servers. CloudLinux has several features aimed at shared hosting providers that allow for more efficient use of server resources. For example, CloudLinux isolates your shared hosting customers into Lightweight Virtualized Environments, which helps both with stability and resource usage. Their CageFS file system encapsulates your customers, keeping them separate and improving security. You can learn more about CloudLinux OS over at their website.
Provision VPS on public clouds (Azure and AWS). You can now resell virtual machines from public cloud providers and your end users can manage these virtual machines from within the Atomia control panel. It is possible to sell both virtual machines hosted on your own Openstack environment and virtual machines hosted by public cloud providers to the same customers, something that is often referred to as hybrid cloud hosting. This release has been tested with both Amazon Web Services and Microsoft Azure.
SSL by default through Let's Encrypt. When using our default Haproxy load balancer setup you now get automatic free SSL certificates for all websites through Let's Encrypt out of the box.
Backup and cloning of virtual machines. End users can now easily create backups of their running virtual machines for safekeeping, to ensure the data is kept safe for future needs. The backup will create a new image by taking a snapshot of the virtual machine. This image can later be used to launch one or more new virtual machines. This means that the feature is both useful for backup/restore as well as cloning of virtual machines.
Extensive polishing and improvements of the hosting control panel. The new, responsive theme in the Hosting Control Panel was introduced in Atomia 16.3 back in March. It has continued to receive a lot of attention during this release cycle and is now better than ever.
More information about new features and improvements in Atomia 16.9 can be found at learn.atomia.com, our documentation site.
Which brings us to…
One more thing: We have a new, unified Atomia documentation site
We are creating a new, unified documentation website collecting all Atomia documentation and how-tos. Everything in one place, nicely categorized, and searchable. We're far from done and there are some rough edges, but the information is up to date and correct. There's even some new material, so we're giving you all early access.
We have not (yet) removed our old documentation resources at features.atomia.com and documentation.atomia.com, but going forward, learn.atomia.com is the site that will receive by far the most love and attention. In the long run, it will act as our one and only documentation hub.
Although the site itself is a work in progress both visually and content wise, we'd appreciate to hear what you think. Please send any feedback to [email protected], who is our resident documentation specialist.
Get in touch to learn more about the latest version of Atomia
Hosting companies, we'd love to hear from you! Don't hesitate to get in touch with us if you have any questions. If you're a customer, you'll already have a contact here at Atomia you can reach out to. If you're not but want to learn more about how we can help your hosting business, just contact us via this form and we'll get right back to you.