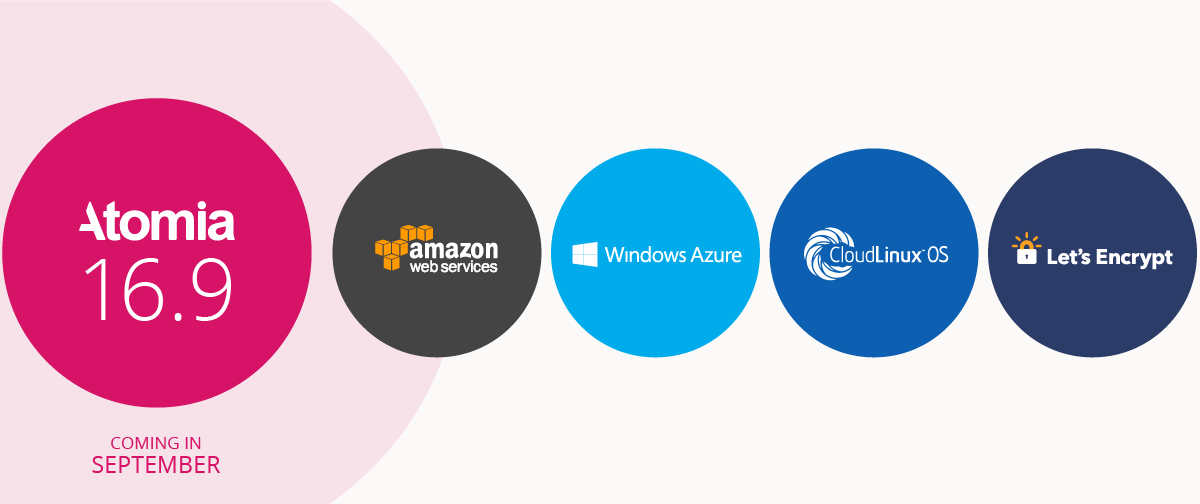 September release of Atomia's hosting software will support hybrid cloud, CloudLinux & Let's Encrypt
As you may know if you've followed us for a while, we have two major releases of our hosting and billing software per year. In September it's time for the second big one of 2016, which will open up even more possibilities for hosting providers.
This is a quick sneak peek of some of the new features and improvements that are coming in our next release. Enjoy!
Hybrid cloud hosting arrives in style with AWS and Azure support
We are now adding the ability to use Amazon Web Services and Microsoft Azure as a backend for virtual servers, i.e. provision directly to AWS and Azure. Your customers will still be able to manage all their VPSs with the same simple Atomia control panel.
You will for example be able to set up your VPS products so your customers can create VPSs on Azure in Asia or Europe or some other region, perhaps in addition to your own OpenStack cloud in your own local data center. Instant global coverage!
You'll be able to combine VPS offers as you like, and give your customers more options.
CloudLinux support
There are Atomia customers using CloudLinux already, but now we're adding full support by default for everyone.
Why CloudLinux? It has a lot of useful features intended for hosting providers, such as added security and more efficient resource usage on your servers. It's great if you're running a shared hosting business.
Support for Let's Encrypt
Our customers have been asking for this, and since Let's Encrypt is now out of beta (as of April), we're adding support for it to Atomia.
Let's Encrypt is a fantastic project. Free SSL certificates for everyone is an ambitious and admirable goal (security!), and it has been a significant success already. They just announced that five million certificates have been issued, and that's basically just over the summer.
And there's more
Continued improvements to our hosting control panel.
Performance improvements.
And of course, since this is software, bug fixes!
We'll share more information closer to the release date, but if you want to have a chat with us about how Atomia can help your hosting business, don't hesitate to get in touch and we'll get right back to you.