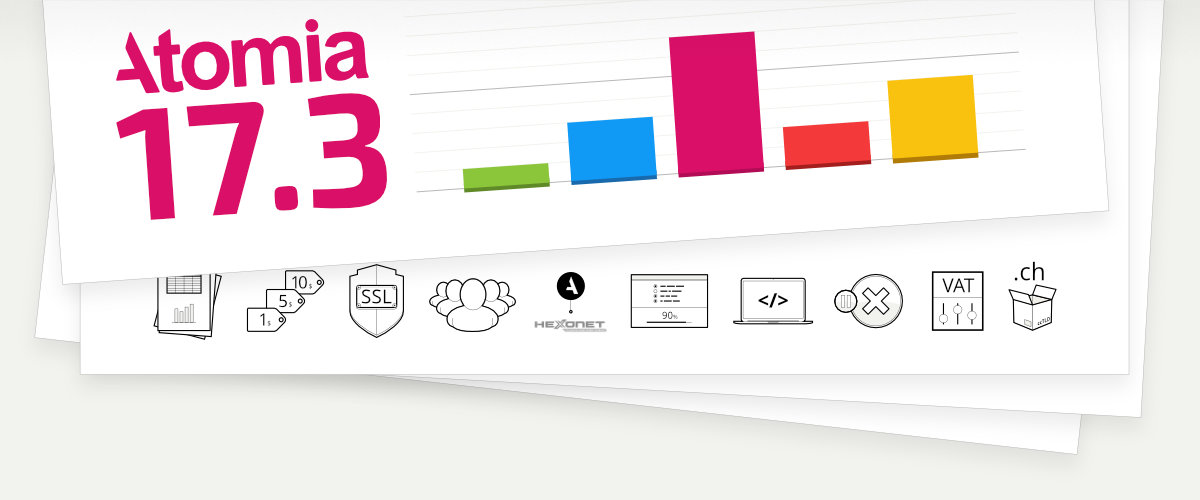 New hosting software release: Atomia 17.3 adds new reports, tiered pricing, stronger reseller support
We're pleased to announce a major new release of the Atomia Cloud Hosting Platform, our all-in-one hosting and billing software. Atomia 17.3 is available starting today.
This new release has a large number of features that make the platform not only easier to administrate, but also provides tools to run your hosting business more efficiently and profitably.
Highlights of the 17.3 release
A powerful new reporting engine. We have rebuilt our reporting engine from scratch to provide a wider variety of reports and make it easy to customize. The new reports are meant to replace our old ones and have presets for invoices, credit invoices, account receivables, account aging, VAT, payments, and payment refunds. The new reports provide both overview summaries and details. In addition, you can filter and segment your data as you please, for example invoices for a specific country, segmented by product group. You can also extend reports with custom segments using SQL queries, which will then be available in the admin panel reporting interface.
Delayed termination to help you reduce customer churn. This feature improves termination workflows in two ways: It allows both customers and staff to terminate recurring subscriptions at the end of their current period. It also adds support for delayed termination with the possibility to regret it while the subscription is in a suspended state. This is useful for providing a grace period and reducing customer churn.
New gRPC APIs. Here is a goodie for you developers and integrators out there. The APIs of our billing system and automation server are now available via gRPC, a high performance, open-source universal RPC framework.
More options for selling premium SSL certificates. You now have the possibility to limit premium SSL certificates to specific hosting packages, which can be useful to help with upselling. Another improvement is that customers can also choose between several different premium SSL certificates. You can also allow only a defined number of premium SSL certificates per package and add free SSL directly in the hosting user panel without any kind of billing checkout.
More flexibility for resellers. Your resellers now have more control over pricing their products, being able to inherit or override prices any way they like. They also have more control over what VPS and cloud hosting options they want to offer and what to include.
And there's much more
This release has a long list of fixes, features and general improvements to the platform. More information about the details of Atomia 17.3 can be found in the technical release notes on our documentation site. You may also want to check out our web page for the 17.3 release, which has some information not mentioned in this post.
There is also a press release.
Get in touch to learn more about the latest version of Atomia
Hosting companies, we'd love to hear from you! Don't hesitate to get in touch with us if you have any questions. If you're a customer, you'll already have a contact here at Atomia you can reach out to. If you're not but want to learn more about how we can help your hosting business, just email [email protected] and we'll get right back to you.