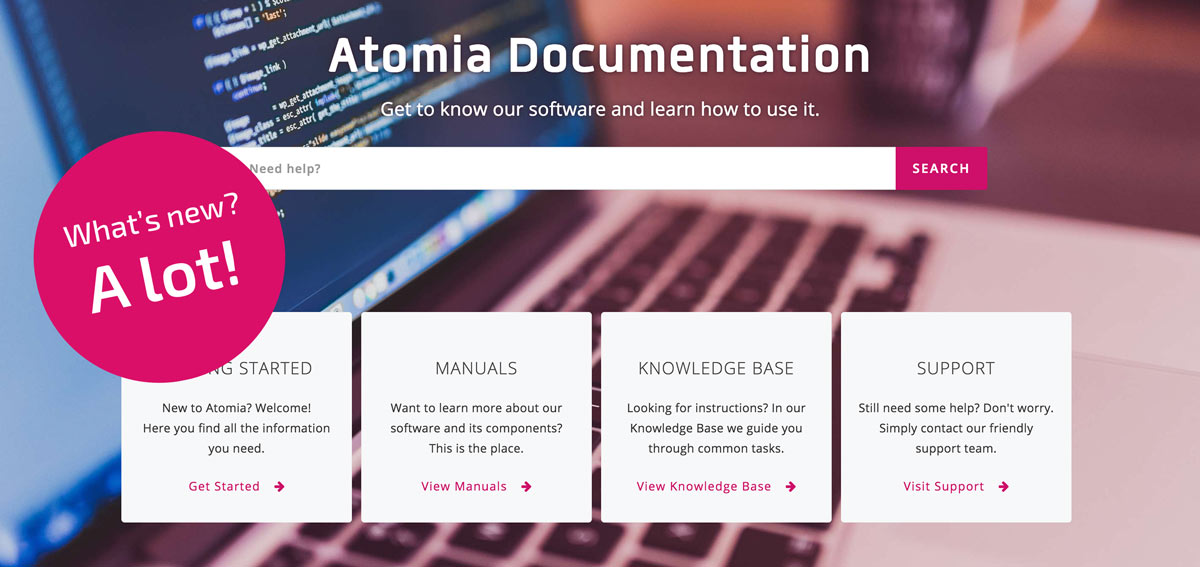 Our documentation site is evolving — here are six great improvements
It's been a couple of months since we released our new documentation site. We said it was a work in progress, and you might have noticed that it is. Since a lot of changes and additions have been made to the site since its release, we figured it was about time we gave you an update on what's new. These are no giant leaps for mankind, but big steps in the process of improving usability and content.
User guides and feature descriptions are now collected in a knowledge base
We have created a knowledge base in which we have gathered all our instructions and feature descriptions. These are organized by category to give you an overview of the contents. But there are also other ways to navigate the knowledge base. Related posts are suggested at the bottom of each article.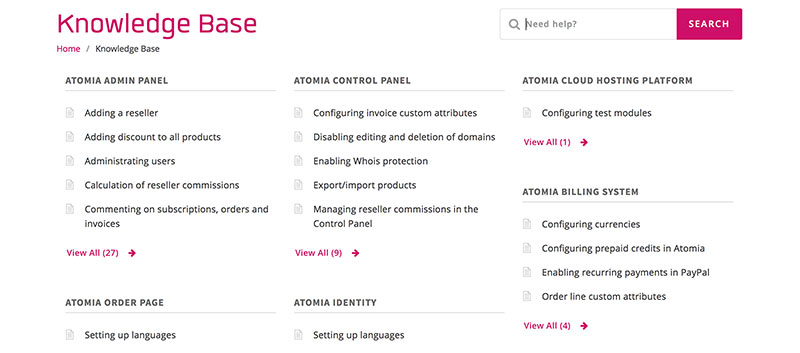 We have also started using tags for the knowledge base articles. The tags give you detailed information about the content and allow you to find other guides related to the topic. Various navigation levels and methods makes seeking for information easier.
Articles now have a feedback mechanism
Whether our guides make you happy or frustrated, you can leave your feedback by answering the "Was this helpful?" query at the bottom of the articles. The voting functionality has been added to both the knowledge base guides and to our manuals. The number of thumbs up an article has received can be seen at the top of it.

We want to hear your opinion so that we can continue to create the type of documentation that you need.
Roadmap displaying our visions and goals
There is no longer any need to gaze into a crystal ball to foresee what is happening next with our software. We have created a roadmap page that shows our current plan for the product, both long term and short term.
As stated on the page, what is listed on it might change, meaning that there is no guarantee that the planned functions will be implemented. But it helps you keep track of our upcoming features, see what we are currently working on and get some insight behind the scenes.
List of our latest documentation
If you are curious to see the most recent knowledge base articles, they are listed on the new documentation page. It can be found in the footer under "What's new?". In the future this view will also show updates made to any other pages on the documentation site, e.g. if a new section has been added to a manual. But as of today it only reflects the latest published articles in the knowledge base.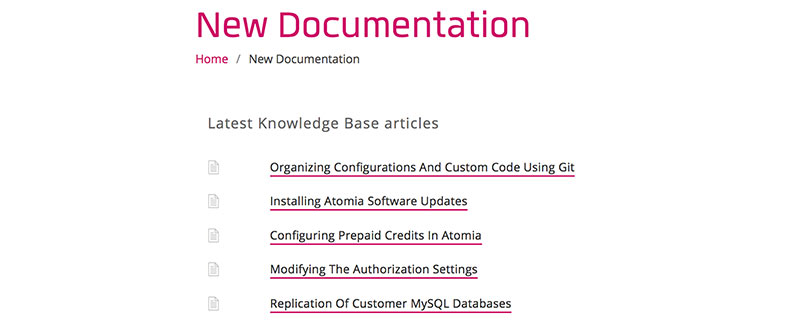 New articles are added continually, so this page allows you to stay up-to-date with the latest additions.
Improved preview of search results
A preview is shown of each article matching your search term in both the live search and in the listed search results. Even though we try to be explicit when we create documentation, the titles themselves don't always reveal enough information for you to know if it's a relevant search result or not. The content preview makes it easier for you to determine whether the found articles actually contain what you were looking for.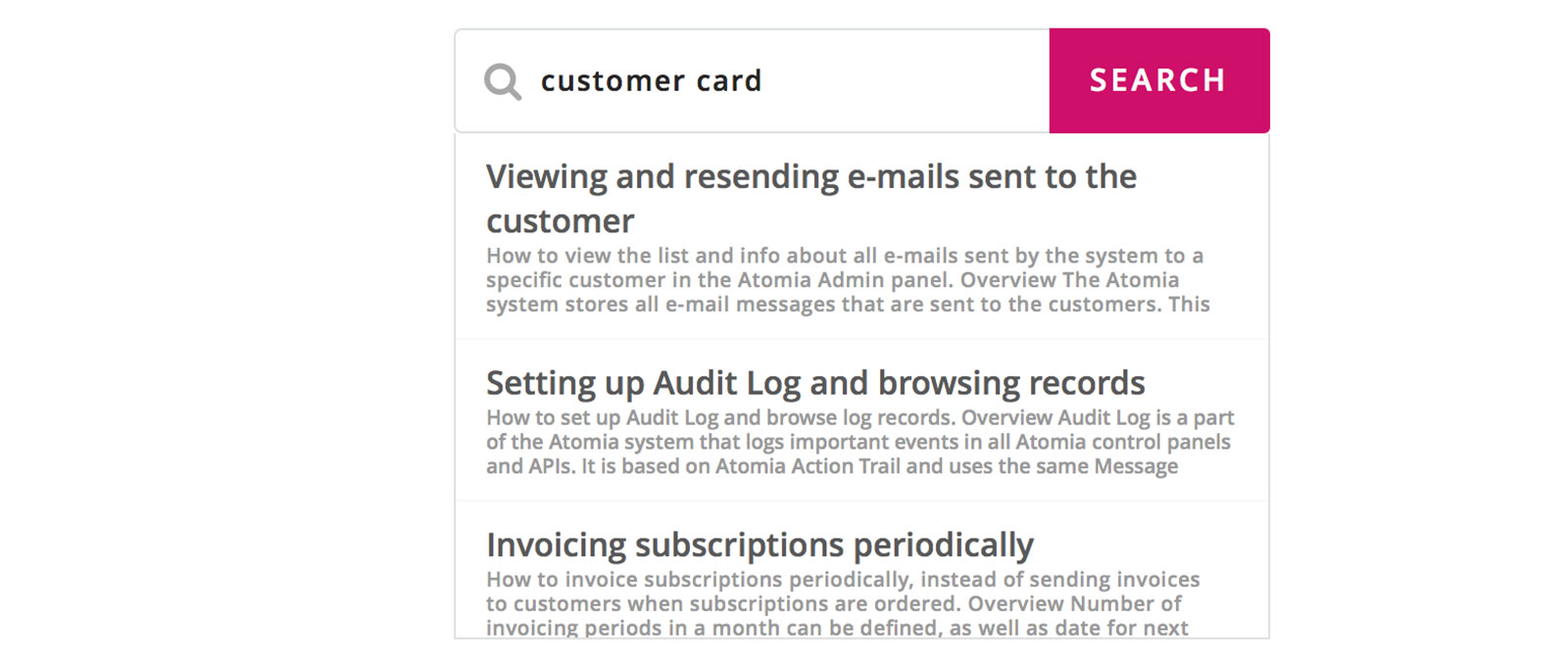 Manuals and API documentation have been moved to the top menu
We wanted to simplify the navigation to decrease the amount of time it takes to get to popular pages. Since API documentation is one of the most visited pages on the documentation site, it can now be found in the top menu. We also folded all our developer guides and product manuals into a single manuals section and moved it to the main menu.

So, if you for example are looking for our newly created User Panel manual, it can be found in the manuals section. Any user guides concerning the User Panel or the Admin Panel can be found in the knowledge base. Or even easier, if you know what you're looking for you can just search.
The biggest room in the world is the room for improvement
As you can see, a lot has happened since last time, and we will continue to make improvements to both the content and its structure. We hope you are happy with what we have done so far, and patient while the site is still being refined.
Do you have any suggestions on how we could make the documentation site better? Please let us know by contacting our documentation specialist at [email protected].