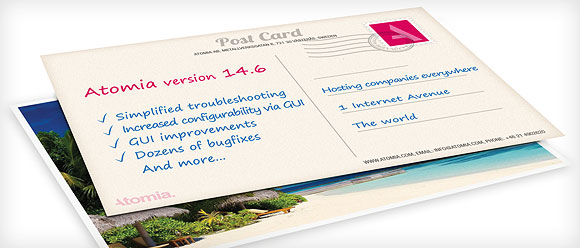 New Release: Atomia 14.6
Today we are proud to announce the availability of a new release of our cloud hosting platform on our supported stable branch.
The release is named 14.6 and builds upon the release made in January with an ongoing focus on quality and improving the existing functionality.
The largest changes and focus areas for this release were:
Working better out of the box. You are now able to configure things like mail templates, workflow settings and scheduled tasks from the Admin Panel. In addition, the products have more defaults, and the Generic Workflow is enabled by default.
Simplified troubleshooting and management. We added a customer-specific view of the Action Trail as part of the customer card in the Admin Panel, and simplified commonly used tasks such as retrying provisioning for a subscription. We also greatly improved the experience of handling invoice-related support tasks.
GUI improvements. We improved the usability of the Admin Panel with a significant number of small fixes and improvements.
Quality and stability. We continued to focus a large share of our resources on fixing problems and other general quality improvements.
Besides this, the release includes numerous fixes, enhancements and additions. Complete release notes, including a full change log and a list of API changes, are available at learn.atomia.com.