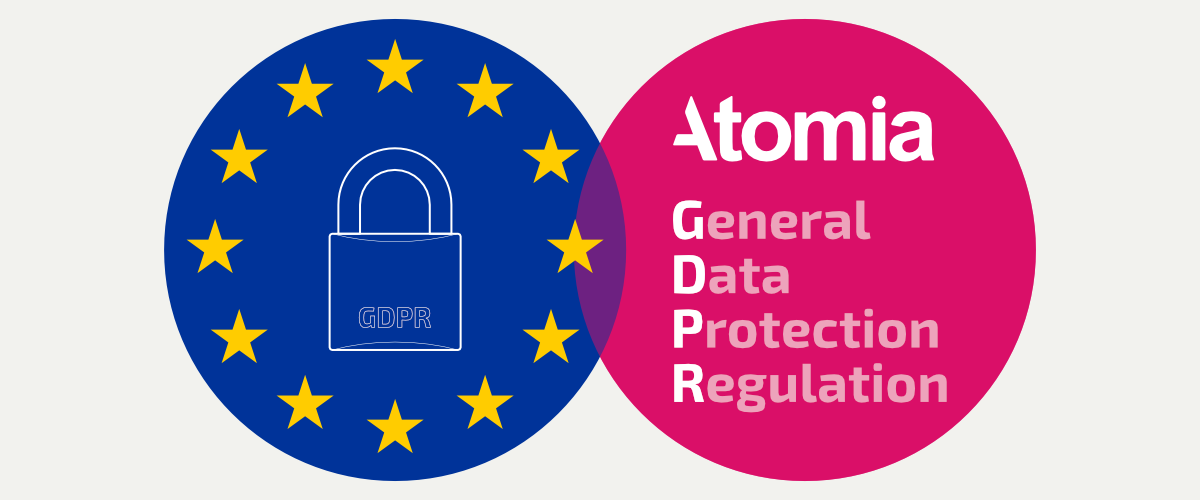 Atomia GDPR features
If you work in IT it is all but impossible that you have missed the fact that GDPR will be enforced starting on May 25th this year. Every company that processes and controls personal data is affected, and service providers in particular due to the sheer volume of data they collect in order to sell and delivery their services. At Atomia we provide a software platform that allows service providers to do just that, sell and deliver their data, in a highly automated and user friendly way.
This means that our clients are very much affected by GDPR and that we have a responsibility to assist them in becoming compliant with this legislation. This is by no means only a necessity, it is also a opportunity to improve our software in this area. While we will present detailed documentation about our GDPR in release notes, we thought that we should forego this with a blog post summarizing what we plan to deliver to our customers.
Consent
Under GDPR, if you wish to process personal data, you need to collect consent. Even if there are some scenarios in which you can collect certain types of data without gaining consent, it does seem wisest to always make sure that you have the users consent to use the data in the manner you intend. Atomia will create a set of features for this purpose, while we already had a foundation that is compliant we plan to expand it greatly.
Right to be forgotten, right to access and portability
The most well known part of GDPR is the right to be forgotten. What is less known is that this right is closely related to the of access and portability. Basically what it means is that you have a right to have all the information held by a service providers exported to you so that you can review it or move it to another provider. Atomia will release support that covers the rights of users in these cases and we will make sure that it is easy for our customers to serve these requests.
Privacy by design
In the development of our software, now and before, Atomia seeks to make sure that our customers respects privacy of their users. We want a market where service providers uses private data with the consent of their users to provide the best possible service. As such we welcome this legislation and we hope that it will raise the bar privacy in our industry. At Atomia we have always viewed these matters with respect and held them as a priority, we intend to continue with this in the future as well.
So what out of this will be in 18.4
Basically 18.4 will enable GDPR compliance for our customers. We are working closely with our customers to make sure that their specific needs are met and that they can ensure compliance. If you have any enquiries please contact [email protected].