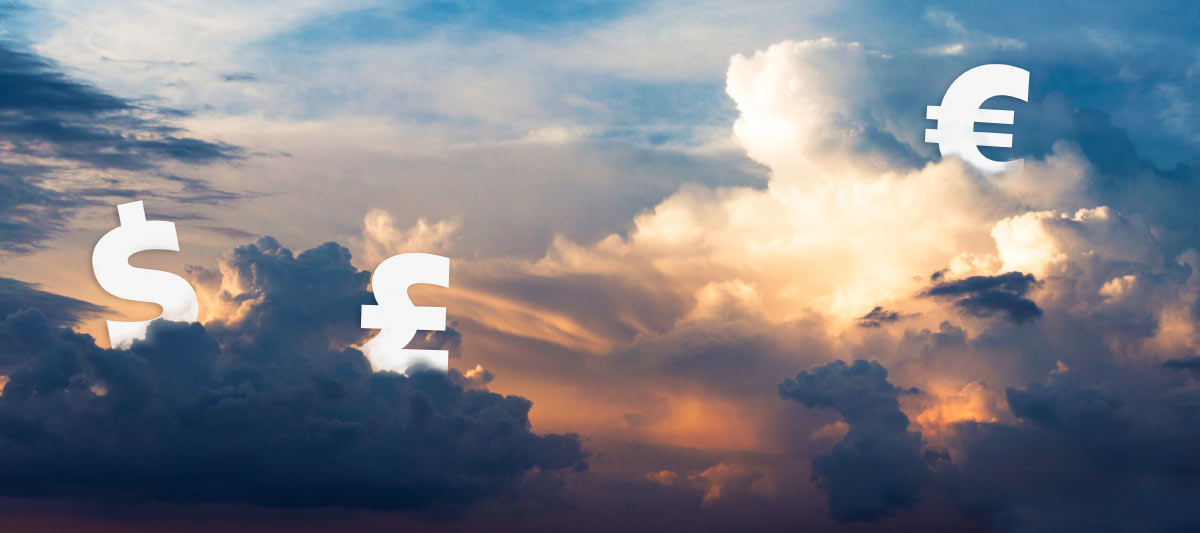 What does the cloud cost?
At Atomia, we provide software for service providers that enables them to deliver state of the art cloud services in a automated and attractive package to their customers. We pride ourselves in delivering what we think is the best designed and most flexible sales experience to our customers.
A large part of our customer projects is focused on setting up the best possible store-fronts and most well designed product packaging together with our customer. This inevitably leads to a discussion about price, and while these decision is our customers they do ask us for information and even advice. Recently this initiated the idea to take this research, structure it up and make a series of blog posts out of it. So welcome to the first part in a small series about the cost of cloud services.
Methodology
To be transparent and fair we will begin with a short summary of how we made this and following posts, if we do not specify anything the following posts they have been done in the same manner. Please note that you should not use this as a basis for deciding what cloud hosting to purchase, you will need to verify our data and make your own comparison based on your needs.
Period of data collection: We collected this data between 10th of October and 20th of October 2017. We will not specify for each vendor what date we collected it and we only checked once per vendor. This means that any data we have collected may have changed.
This data was collected from the public sites of the vendors without creating an account. We did not contact the vendors or inform them about this. This means that other pricing, products or offerings may be available if you create an account or if you contact the vendor.
Setup fees are charged by some vendors, we have chosen not to include these in this comparison
Product: We used a Virtual machine with the default linux distribution provided by the vendor. The preferred specification was as follows:

CPU: 2 cores
RAM: 4GB
Storage: 20GB (if we were able to choose otherwise we selected the CPU and RAM and went with the available storage for that product)
Traffic: What was offered by the vendor

Price estimation: Fixed price or a calculation of a full month's usage based on the above specification.

Usage based cost was calculated using 744 hours per month
We did not use the first month promotional price in case the vendor offered this
If there was no fixed storage, or less than 20gb, we calculated a cost based on the usage of 20gb
If there was a price per unit of traffic we calculated a cost based on the usage of 4TB
All prices have been converted to EUR using the exchange rates from the European Central Bank.
Price comparison table
Provider / Location
Package / OS
Monthly cost in EUR / Type of charge
CPU / RAM (GB) / Disk (GB)
Connection
Monthly traffic (TB)
AWS
Frankfurt
T2 medium
Linux
339.84
Usage based
2 / 4 / 20
Not specified
4
AWS
Ireland
T2 medium
Linux
337.43
Usage based
2 / 4 / 20
Not specified
4
Amazon Lightsail
N/A
$40
Linux
33.80
Fixed
2 / 4 / 60
Not specified
4
Azure
Western/Northern Europe
A2 v2
Linux
350.22
Usage based
2 / 4 / 20
Not specified
4
City cloud
Sweden
2 Core 4GB Ram
Linux
113.02
Usage based
2 / 4 / 20
Not specified
4
Strato
.com/en_se
VPS V20
Linux
11.99*
Fixed
2 / 4 / 200
Not specified
Unlimited
1&1
United states (.com)
Virtual Server Cloud XL
Linux
25.34
Fixed
2 / 4 / 120
Not specified
Unlimited
1&1
Germany (.de)
Virtual Server Cloud XL
Linux
19.99
Fixed
2 / 4 / 120
Not specified
Unlimited
Transip
.nl
X4
Linux
20.00
Fixed
2 / 4 / 150
1 Gb/s
5
Transip
.eu
PureSSD X4
Linux
20.00
Fixed
2 / 4 / 150
Not specified
5
OVH
.com/fr
VPS Cloud 2
Linux
15.99
Fixed
2 / 4 / 50
100 Mb/s
Unlimited
Blacknight
Ireland (.com)
Business+
Linux
59.95
Fixed
2 / 4 / 50
200 Mb/s
 1
Aruba
.com
Large
Linux
12.50
Fixed
2 / 4 / 80
1000 Mb/s
12
Arsys.es
Spain
VPS 2
Linux
15.00
Fixed
2 / 4 / 60
Not specified
Unlimited
Home.pl
.pl
Cloud VPS Standard
Linux
17.96
Fixed
4 / 4 / 75
Not specified
Unlimited
Combell
.com
VPS 2
Linux
49.50*
Fixed
4 / 8 / 100
Not specified
Unlimited
Leaseweb
Netherlands
Large
Linux
17.97
Fixed
4 / 4 / 80
Not specified
8
Hosteurope
.de
Starter plus
Linux
14.99
Fixed
2 / 4 / 150
100 Mb/s
Unlimited
* 12 months contract period
All prices were collected during this time period: 10.10.2017 – 20.10.2017.
Prices, offerings, options and configuration are subject to change. Please report any errors or mistakes in the table to [email protected].
What´s next in the series
Now that we have got the ball rolling we plan to follow up with a very similar comparison of Web Hosting and CMS hosting packages. There is a lot to be discovered in the world of cloud products.