Blog

As you may remember, a while ago we made Atomia DNS free and open source. It's our battle-tested DNS management software, in use at several large web hosting companies and telecoms.

Today, we updated the Atomia DNS packages to support the latest LTS release of Ubuntu. We also made some minor adjustment to the documentation (and the get started section on atomiadns.com) to make it easier to install the software.
UPDATE 31 MAY, 2012
You will now find an installation guide for FreeBSD in the official documentation: http://atomia.github.com/atomiadns/usage.html#usage-master-installation-default-freebsd
Atomia DNS is the free to use and open source DNS management system from Atomia, built for mass DNS hosting. Visit the project website at http://atomiadns.com and try it out using our free DNS service http://atomiadns.net.
We are back in our offices in Sweden and Serbia after a great week at Europa Park in Rust, Germany. Attending this year's World Hosting Days gave us the chance to meet our partners and clients and to make some great new contacts, too. We took a look at what's new in the hosting business and held a session about DNSSEC.

Images and more after the break!
A few days back we published a blog post on how to get started with C# and Atomia DNS. Today, we will do a similar blog post for the very popular script language PHP.
Code example after the break.

The interest for Atomia DNS (our open source DNS management system) has exceeded our expectations and last Friday we decided to give the community a chance to play around with it without actually installing it.
AtomiaDNS.net is a free to use DNS service, it is fully functional and you can use the Atomia DNS Web App to manage your domain names or connect to the API using CURL, the Atomia DNS command line client or your homebrewed application. I built one myself in C# this weekend and wrote a blog post with some tips on how to get started.
We have no intention of making profit on this service, therefor we cannot guarantee the perfect up-time or availability, we will, however, do our best to give you a great experience of our software.
It is really easy to get started with the service; head over to http://atomiadns.com/demo and sign up for an account. It takes less than 30 seconds to get started!
Also, check out our quick guide to AtomiaDNS.net at: http://atomiadns.com/quick-guide.
Last Friday, we opened the doors to AtomiaDNS.net, a playground for those who want to test Atomia DNS without installing it. It is a free, fully functional DNS service without any guarantees in terms of up-time or availability.
Atomia DNS is written in Perl and the control panel (Atomia DNS Web App) is written in Node.js, you can, however, use the programming language of your choice to talk to Atomia DNS.
In this blog post I will share a few tips on how to get started in C# and .Net.
Code examples can be found after the break.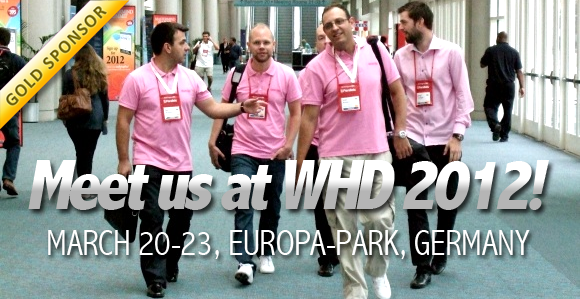 On Thursday the 22nd of March, Jimmy Bergman, our Lead Developer and System Architect, will enter the main stage at WHD.global to talk about our experiences from a large scale DNSSEC deployment.
Don't miss this opportunity to listen to one of the most respected Domain & DNS specialist from Sweden and learn more about DNSSEC automation/deployment.
Atomia will also have a team of hosting automation experts in place to talk about Atomia Hosting Automation Platform. If you want to know more about our products or discuss hosting automation in general, don't hesitate to contact us in advance and book a meeting.
How to spot the Atomia crew among thousands of visitors? Just look for the pink shirts!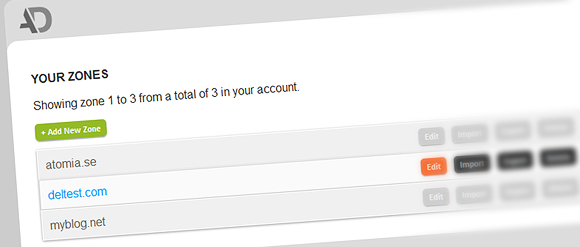 A few weeks back, we built a simple Web App to accompany Atomia DNS. It is build in Node.js and Jade (Node Template Engine).
Check out the screen shots after the break!
Read the full press release after the break.


As of today, you will be able to install and use Atomia DNS for free. And what's even better, you can contribute to the development of the product, which is released under the ISC license.
Atomia DNS is a DNS management software with DNSSEC support out of the box. It comes packed with a simple to use, yet, powerful API and can easily be integrated with any system. For the occasion we have built a simple web application (in node.js) for those who prefer a GUI to manage their zones. Of course, we provide a command line client as well.
Atomia DNS was earlier exclusive to Atomia Cloud Hosting Platform and has gained publicity thanks to its robustness and effectiveness during the roll-out of DNSSEC for the Swedish TLD (.se).